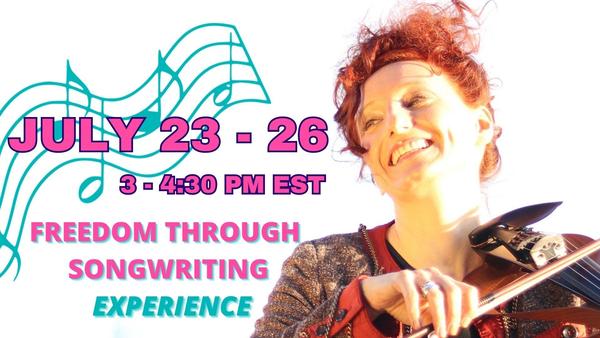 Get YOUR song(s) you've wanted to write for years into the world! Even if you haven't started to write them yet 😆
Join the 4-day 2023 Freedom through Songwriting Immersive EXPERIENCE.
Sunday JULY 23rd - Wednesday JULY 26th, 3pm - 4:30pm EST
* It won't happen again until 2024! Don't miss out!
Purchases from this website cannot be accepted at this time.
Sorry. This product is missing some information and can't be purchased at this time.
Your Order
Freedom through Songwriting INTENSIVE
Thank you for your purchase!
Product
Freedom through Songwriting INTENSIVE
Implement a simple 7-step framework, gain the clarity for YOUR next best actions & the tools to overcome any writer's block!
📀 Eliminate Writer's Block
💌 Polish Your Heartfelt Message
🗝 Free Your Creative Energy
This video tells my musical story & how I discovered the
Freedom through Songwriting method that allowed me to write 40 songs within 57 days.